Spice
Spices are indispensable in all major cuisines around the world. The trade of spices can be dated back to 2000BC. Spices are extensively used in the food industry for flavouring, colouring and food preservation. They are also used in medicine, perfumery and cosmetics.
India is the largest producer of spices accounting for 70% of the global spice production, followed by Bangladesh, Turkey, China and Pakistan.
As spice suppliers, we source and supply the best quality spices from our trusted suppliers around the world.
We do business in the following as part of our Spices Segment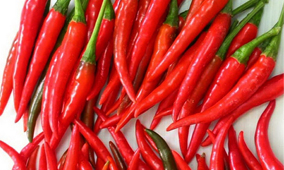 Red chilli is a major ingredient in spicy preparations and it has a high medicinal value. Both the colour and flavour of red chillies are extracted as Paprika Oleoresins and traded all over the world. High colour chillies are used for extracting natural colours. India is the largest producer and exporter of red chilli. Red chilli has multiple varieties which differ from each other in pungency and colour. These varieties are available in whole, crushed and powdered/ground forms.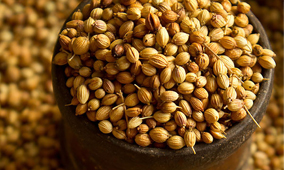 Coriander/Cilantro is a tropical crop whose leaves and seeds are widely used for flavouring. Coriander seeds are used in raw, roasted, crushed or powdered/ground forms to give a unique flavour and aroma to various food preparations. Ground coriander is widely used for flavouring as well as thickening of gravies. India, Morocco, Russia, France, U.S.A and East-European countries are the major producers of coriander.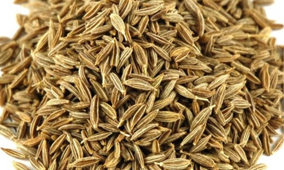 Cumin is the dried seed of the tropical plant Cuminum cyminum. It is native to India, Egypt, Iran and the Mediterranean region. Cumin seeds have a characteristic aroma and flavour and they are extensively used in many cuisines mainly South Asian, North African and Latin American cuisines. They are used in medicine, perfumery and in the flavouring of cordials. Cumin is available in both ground and whole forms.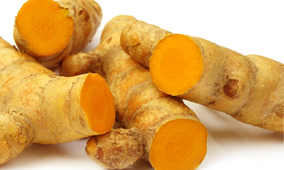 Turmeric is used in food colouring, flavouring and in medicine and cosmetics. It also has religious ceremonial uses in the Indian culture. Curcumin, the active ingredient in turmeric is extensively researched for its ability to counteract cancer. Chief producers of turmeric are India and Pakistan. We offer both whole and ground varieties of turmeric. Curcumin is also available on request.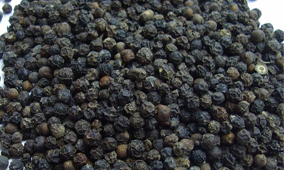 Pepper is the world's most traded spice, with Vietnam being the largest producer followed by India. It is universally used as a culinary seasoning and flavour-correcting agent. It is used to produce pepper oil and oleoresins through extraction processes. Its anti-pyretic and anti-microbial properties make it an important ingredient in Indian medicine. We offer both Black and White pepper in whole, crushed and ground forms.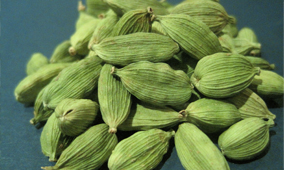 Cardamom is known as the 'Queen of Spices' as it is exotic, expensive and unique in flavour and aroma. It is widely used as flavouring agent in both traditional and modern foods. Cardamom oil and Oleoresin extracts are used in perfumery, medicine and food processing. Indian cardamom has a worldwide demand especially in the Middle East. Both black and green cardamom are available in different grades for trade.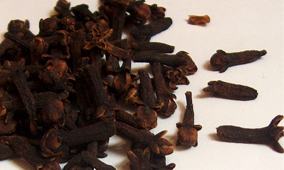 Cloves are used in African, Asian and Middle Eastern cooking as a flavouring agent. Owing to its carminative and stimulative properties, it is widely used in medicine. It is used in dentistry and in the manufacture of toothpastes and mouthwashes. Essential oils extracted from cloves are traded worldwide.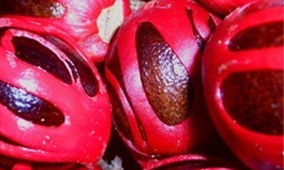 Nutmeg and mace are produced from the fruits of Nutmeg tree. Nutmeg is the dried seed kernel whereas Mace is the dried 'aril' of the seed. Ground nutmeg is used in flavouring and food processing. Oils and oleoresins obtained from nutmeg have various applications in the food industry, perfumery and pharmaceutical industries. Being delicate in flavour, mace is used for adding colour as well as flavour. World production of nutmeg falls between 10K and 12K Metric Tonnes. We deal in different varieties of nutmeg and mace.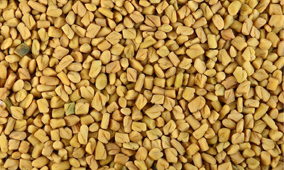 Fenugreek is used for flavouring and in medicines. Fenugreek oil has applications in the cosmetic industry. In cooking, fenugreek is used in whole and ground forms. It has a unique flavour that gives a distinct taste to the foods. Major producers of fenugreek are India, Nepal, Iran, Bangladesh and Argentina. We deal in both fenugreek seeds and ground/powdered fenugreek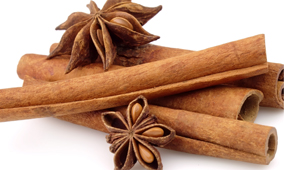 Cinnamon bark is a widely used spice in the food industry. Cinnamon powder is a major ingredient in baking and confectionary. It is also used in cosmetic and pharmaceutical industries. Cinnamon bark oil has several applications in medicine. Sri Lanka is the world's largest producer and exporter of cinnamon. We source cinnamon from Sri Lanka, India and Seychelles.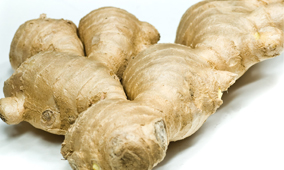 Ginger is the dried subterranean stem of Zingiber officinale. Raw or processed ginger is very valued for its aroma, flavour and medicinal properties. Fresh ginger and dry ginger powder are widely used in the food industry. Ginger oil and oleoresin are also used as flavouring agents. India is the largest producer of ginger followed by China, Indonesia and Nepal. We deal in both dry ginger and ground ginger.